CCS Safety Hawks Contest
June 24, 2014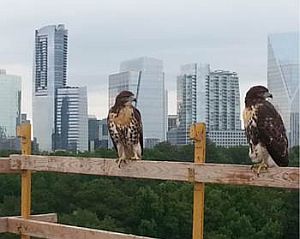 WHO ARE THESE GUYS?
Carter Concrete Structures has erected 600,000sf (over 10 football fields) of concrete frame for the Camden Paces project in Buckhead and in the process, we made a couple of new friends!
This majestic pair of Red Tail Hawks has a nest below the crane hook immediately adjacent to the north tower. They have become comfortable enough with the CCS concrete frame erectors to hang out with us, often perched on our safety rails. We like to think of this pair of hawks as super vigilant, sharp eyed observers of all we do, night and day, fair weather and foul, 24/7/365.
They remind us constantly that safety is largely a matter of situational awareness. Among other hazards of this work, gravity never relaxes. So when you are fighting gravity all the time, like we do, there is no rest. Vigilance is the price of a safe workplace. We want to be as aware of ever changing circumstances as are these hawks so we are making them our safety mascots.
HELP US NAME THESE HAWKS
CCS is seeking appropriate names for these two magnificent creatures, and we have a contest going on to help find the right names. What are your ideas? It is worth $250 if your idea selected. Please let us know your thoughts.
Send your suggestions and information in the following format to Hannah Hagins Subject: Name These Hawks Contest
MALE NAME:
FEMALE NAME:
PAIR NAME:
SUBMITTED BY:
EMAIL:
PHONE:
FIRM:
Carter Concrete Structures is a specialized Contractor operating as Subcontractor, Trade, or Prime Contractor performing turnkey concrete construction work in the commercial, institutional, industrial, and public construction markets. Scope of work typically includes structural excavation, foundations, slabs-on-grade, formwork of all types, reinforcing, concrete production, placement and finish, engineering layout, hoisting, and general conditions work on civil, industrial and multi-story structures.