Camden Paces Top Out
June 22, 2014
The final slab placement at the Camden Paces project was celebrated on June 19th.
A barbecue luncheon was enjoyed by all courtesy of the Camden Property Trust.
Check out additional photos in link below to the article on Camden Paces by Curbed magazine:
 http://atlanta.curbed.com/archives/2014/08/29/glimpses-buckheads-supermassive-camden-paces-project.php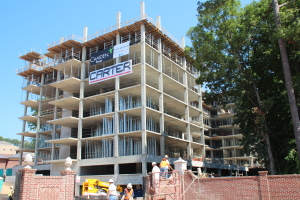 Carter Concrete Structures is a specialized Contractor operating as Subcontractor, Trade, or Prime Contractor performing turnkey concrete construction work in the commercial, institutional, industrial, and public construction markets. Scope of work typically includes structural excavation, foundations, slabs-on-grade, formwork of all types, reinforcing, concrete production, placement and finish, engineering layout, hoisting, and general conditions work on civil, industrial and multi-story structures.