CCS receives ABC's 2009 Gold STEP Award
August 1, 2009
Stone Mountain, Georgia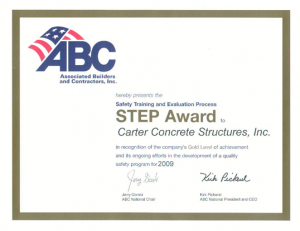 Carter Concrete Structures was recently recognized by the ABC for it's Safety Training and Evaluation Processes (STEP) and received a 2009 Gold STEP Award.
The STEP program provides members with an organized approach to analyzing and further developing their safety and loss prevention program. It gives companies a valid, objective method with which to measure safety program improvements. Awards are based on approximately 20 key elements of contractor safety programs such as commitment of company management, responsibilities of safety personnel, and budget.
Every year, ABC recognizes member companies that demonstrated outstanding safety performance the previous year. Entries are evaluated based on the type of member company – general contractor, subcontractor or supplier – and the total number of manhours worked.
Read more about the ABC and the STEP award at the ABC Georgia Chapter website.
Carter Concrete Structures is a specialized Contractor operating as Subcontractor, Trade, or Prime Contractor performing turnkey concrete construction work in the commercial, institutional, industrial, and public construction markets. Scope of work typically includes structural excavation, foundations, slabs-on-grade, formwork of all types, reinforcing, concrete production, placement and finish, engineering layout, hoisting, and general conditions work on civil, industrial and multi-story structures.