Carter Concrete Structures in OSHA Partnership
April 10, 2009
Atlanta, Georgia
Carter Concrete Structures participated in a partnership with the U.S. Department of Labor's Occupational Safety and Health Administration (OSHA), McCarthy Building Companies Inc. and the Georgia Tech On-site Consultative Service to ensure the highest level of employee safety and health during construction of the Georgia State University Science Park.
"The primary goals of this agreement are to reduce employee injuries and illnesses and eliminate fatalities during this major construction project," said Andre Richards, director of OSHA's Atlanta-West area office.
The Georgia State University Science Park Project will consist of one building containing nine floors covering 334,580 square feet at the corner of Decatur Street and Piedmont Avenue in downtown Atlanta.
The partnership will focus on increasing the number of construction companies with effective safety and health management systems and incident-prevention programs. It will also work to increase the number of employees who receive effective safety and health training. The agreement requires participating employers to train non-English speaking employees.
More than 1,284,000 employees and more than 21,000 employers across the U.S. have participated with OSHA in 484 Strategic Partnerships since the program began in 1998 (163 partnerships currently open).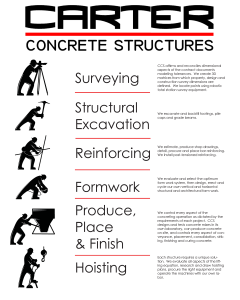 Carter Concrete Structures is a specialized Contractor operating as Subcontractor, Trade, or Prime Contractor performing turnkey concrete construction work in the commercial, institutional, industrial, and public construction markets. Scope of work typically includes structural excavation, foundations, slabs-on-grade, formwork of all types, reinforcing, concrete production, placement and finish, engineering layout, hoisting, and general conditions work on civil, industrial and multi-story structures.