Carter Tops-out Design-Build Tuttle US Federal Courthouse Annex
March 4, 2010
Atlanta, Georgia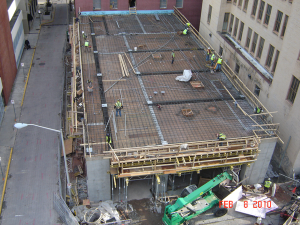 Carter Concrete Structures has completed concrete work on the Tuttle Courthouse. The project is ahead of schedule and on the safety outcome, incident free.
The Tuttle Courthouse was originally erected in 1910. The courthouse and two adjacent structures were modified to include below grade parking and a pedestrian tunnel. A new reinforced concrete parking structure ties into existing load bearing stone walls, timber framing, and board-formed/square bar reinforced concrete.
This is the most recent in a string of successful projects completed by Carter for client The Beck Group. Carter provided BIM modeling during the pre-construction phase using Revit Structures to produce accurate shop drawings, to aid in rebar detailing and installation as well as to provide precise formwork designs and building layout.
Carter Concrete Structures is a specialized Contractor operating as Subcontractor, Trade, or Prime Contractor performing turnkey concrete construction work in the commercial, institutional, industrial, and public construction markets. Scope of work typically includes structural excavation, foundations, slabs-on-grade, formwork of all types, reinforcing, concrete production, placement and finish, engineering layout, hoisting, and general conditions work on civil, industrial and multi-story structures.