Carter Completes TOYO Tire Plant Expansion
April 28, 2010
Cartersville, Georgia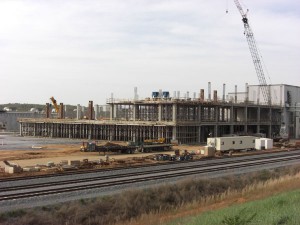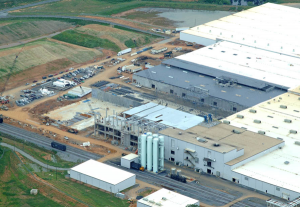 Carter Concrete Structures has completed phase two of the Toyo Tire manufacturing plant in Cartersville, Georgia. The expansion included over 10,400 cubic yards of concrete and 1,036 tons of rebar and was erected ahead of schedule for client KBD Construction Services (Kajima).

Carter previously erected the first phase of the project under a design-build arrangement. The multistory structure supports manufacturing machinery and features a 420 psf live load in 30'x30′ bays.
Carter Concrete Structures is a specialized Contractor operating as Subcontractor, Trade, or Prime Contractor performing turnkey concrete construction work in the commercial, institutional, industrial, and public construction markets. Scope of work typically includes structural excavation, foundations, slabs-on-grade, formwork of all types, reinforcing, concrete production, placement and finish, engineering layout, hoisting, and general conditions work on civil, industrial and multi-story structures.