Carter Completes Nickajack Inlet Structure
June 15, 2011
Carter Concrete Structures has completed the Nickajack Creek Inlet Structure, one of five being constructed for Shea-Traylor on the South Cobb Tunnel Project. Self-performed work by Carter includes excavation, dewatering, temporary earth retention, special coatings, and concrete.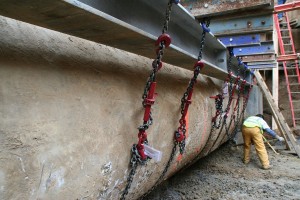 Significantly, Carter uncovered a sixty inch diameter reinforced concrete pipe located 16 feet below grade that is running well over design capacity. The line was suspended from a grid of beams temporarily as the new concrete structure was constructed around the pipe which was then cribbed. When completed, the structure and its gates will divert flows to the 27′ diameter tunnel bored by Shea-Traylor, which is located 400 feet below the surface. This is the first of five such structures that Carter is building as subcontractor to Shea-Traylor, each with its own set of challenges.
Carter Concrete Structures is a specialized Contractor operating as Subcontractor, Trade, or Prime Contractor performing turnkey concrete construction work in the commercial, institutional, industrial, and public construction markets. Scope of work typically includes structural excavation, foundations, slabs-on-grade, formwork of all types, reinforcing, concrete production, placement and finish, engineering layout, hoisting, and general conditions work on civil, industrial and multi-story structures.