Carter Concrete Structures continues with VA Nashville Parking Deck
September 1, 2011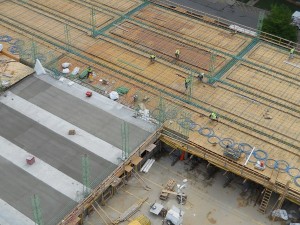 Carter has completed the first of two levels of a parking deck overbuild in Nashville and is well on the way to completing the final level.  The project is being expanded vertically from four to six stories.  The design-build contract requires that all parking spaces utilized by the contractor (Carter) during construction be replaced.  To minimize disruption, Carter developed an erection scheme that reduced construction loads on the existing deck, eliminating much of the re-shoring that is typical of multi-story concrete construction.  Beams were placed and tensioned ahead of the slabs they support, diverting significant loads from plates directly to columns.  Specialized formwork and intricate sequencing provide that follow-on slab placement loads are borne by a single level of existing structure.  Semi-lightweight concrete is also part of the solution.
Carter has associated with Tim Haahs Engineers/Architects for design services and produced its own 3D model.  Carter self performs formwork, reinforcing detailing and installation, concrete placing and finishing, surveying and hoisting.  Ready mix concrete is produced to designs developed by Carter in its Atlanta concrete laboratory, optimizing local aggregates and cementitious constituents for density, durability and economy, with an eye on ensuring a light ecological footprint.
Carter Concrete Structures is a specialized Contractor operating as Subcontractor, Trade, or Prime Contractor performing turnkey concrete construction work in the commercial, institutional, industrial, and public construction markets. Scope of work typically includes structural excavation, foundations, slabs-on-grade, formwork of all types, reinforcing, concrete production, placement and finish, engineering layout, hoisting, and general conditions work on civil, industrial and multi-story structures.